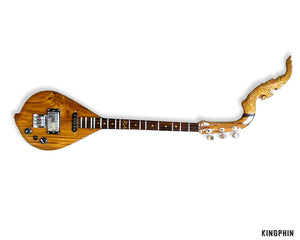 Soi Electric
Regular price 7,770.00 ฿ Sale
The "Soi Electric" limited edition first series phin guitar is handmade from padauk wood exclusively from Northern Thailand.  It has a traditional 14 fret set with a custom made brass "RA" inlay.  Attach the removable naga (dragon) headstock, tune up and it's ready to play.  The low set spring loading saddle allows for adjustments, and the clean cut nut allows for easy strumming and easier bending and picking.  The custom bridge single coil and neck humbucker pickup allow for multiple settings and the volume, tone and toggle allow for a nearly endless series of sounds.  The Soi Electric comes with strings, a custom blended foldable carrying case, a black strap, a 6.5 foot (198 cm), quarter inch (6.35mm) ended cable, a hex key Allen wrench and one phin pick.  For an additional cost, you can get the custom made wooden case. It has laser logos for KINGPHIN and Roman Anton on the outside, a soft faux fur inlay and protective padding on the inside, and an internal security holder for the naga headstock, wrench, strap, pick and more.
Soi Electric FREE Extras 
Soft-case

This custom made foldable carrying case has a strong-support carrying strap with a uniquely stitched over-the-top-zipper which allows for easy insertion of your custom made Phin.  The additional front pocket has one-zip access, ideal for loss prevention, and can hold the Phin's removable naga head, the strap, the cable, the Hex Key Allen Wrench, a pick and more.

 

 

Strap

Super-strength, polyester black strap with easy slide adjustability and reinforced flex-eye hole ends for secure, reliable guitar hold.

Cable

Authentic SSF (stronger safer faster) technology in a super-strength 6.5 foot (198 cm), quarter inch (6.35 mm) plug with coil wire end-guard on high performance coaxial, digital, audio microphone cable in a stretch-and-twist rubber coating.

Pick

No surprises here. This simple celluloid looking, heart-shaped pick provides both the need for flexibility in speed picking and the desire for stability in strumming. Colors may vary.

Allen Wrench

This durable steel Hex Key, Allen wrench has a simple one-handed insert-and-turn design for tightening or loosening the metal neck rod in your custom made Soi Acoustic or Soi Electric phin guitar. Two inches on the horizontal and three inches on the vertical, this small but sturdy tool can easily fit in your pocket or in the handy soft case outer pocket or in the custom made wooden case inside drawer.